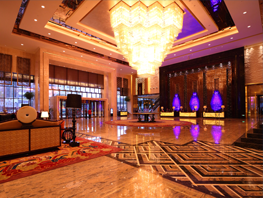 Wanda Commercial Management Group is national leading hotel management brand.Wanda's hotel portfolio includes more than the ultra-luxury hotel brand Wanda Reign, the luxury hotel brand Wanda Vista, the premium hotel brand Wanda Realm, the boutique hotel brand Wanda Jin, and the ultra-midrange hotel brand Wanda Moments .         As of June 30,2021,There are 106 Wanda Owned and Operated hotels.

National Representative Hotel

National Branch of Superior Hotel
National Representative Hotel
Beijing—Wanda Vista Beijing

Located in the heart of Beijing's central business district, the hotel has 419 rooms.
Shanghai—Wanda Reign on the Bund

Located on the bund of Shanghai, the hotel has 193 rooms.
Guizhou—Wanda Jin Danzhai

Located in wanda town, dazhai county, guizhou province, the hotel has 95 rooms.
Hubei—Wanda Realm Wuhan

Located in the central cultural district of wuhan, the hotel has 408 rooms.